TIPS Corporate Accounts -
2 to 500 Employees
---
For businesses and employers who wish to pay for their staff, we now offer the eTIPS Pre-Paid Passports. Passports offer establishments, corporations, and organizations the flexibility of pre-ordering eTIPS registrations. For every passport that you purchase, we will send you a one-page pdf document with a unique registration code and instructions on how to access the course. You may then register your employee or hand them the document and they can register themselves
e

TIPS Passports

offer you:
Cost is $40.00 each. Same as individual purchase on orders under 500.
An easy way to order several registrations using one payment
The ability to hand-out pre-paid registrations to new employees as they are hired
A way to pay for your employees without having to provide them with your credit card
The ability to send certification cards to a centralized location
Purchase the Passports Online and Securely
We do accept company checks by mail
We do accept credit cards by phone
Fast delivery - within 2 business days by email
eTips Passports are valid for 12 months from date of purchase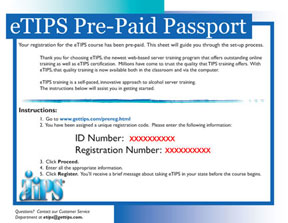 You may purchase your eTIPS Pre-Paid Passports online from this website using a major credit card or PayPal account. Payments are processed securely using PayPal, so your safety and satisfaction is guaranteed.
Each TIPS Pre Paid Passport includes the correct web address to use and a unique username and password for the staff member to use when signing up. This unique numbering system gives you a method of tracking your staff and prevents fraud.
Minimum eTIPS Passport Order is 2! Cost is $40.00 Each

Payments are processed through Professional Bartending Schools of America. PBSA trains over 10,000 servers of alcohol each year at 30 bartending schools. In addition, we are the largest eTIPS Online reseller in the US.
PBSA was established in 1998 and is based out of our corporate offices in Key West, Florida. Our corporate address and contact information:
---
PBSA LLC 17043 Allamanda Dr. West Summerland Key, FL 33042
1 (877) 851-7272 or (954) 405-9658
info@tipsalcohol.com
If sending payment, please send to;
PBSA LLC Atn; Passports Dept.
17043 Allamands Drive West, Summerland Key, FL 33042
---
Once your order is complete, your TIPS Passports will be delivered to you by email within 2 business days.
Simply click on the "Buy Now" button above, or order by phone at (954) 405-9658. After your puchase, we will email your Passports to the email address provided during the purchase. We will send one pdf document for each Passport purchased with a unique registration code and instructions on how to access the course.
After purchasing online, PayPal will automatically re-direct you to our registration page where you will need to provide the establishment name and address as well as your contact information and delivery mehtod.
TIPS Passports are sold at the standard price of $40.00 per student. A 10% discounts is offered on orders of over 500 Passports.
eTIPS Pre-Paid Passport program offers establishments a convenient, safe and secure manner to get their staff certified.