TIPS group training-
2 to 500 Employees
---
For businesses and employers who wish to pay for their staff, we now offer the eTIPS Pre-Paid Passports. Passports offer establishments, corporations, and organizations the flexibility of pre-ordering eTIPS registrations. For every passport that you purchase, our system will place a unique "PASSPORT NUMBER" for each student into your portal.
if you purchase a Package deal that includes two courses such as food and alcohol each Passport code will include two numbers.
You may copy the unique code and email to the employee or print them out and physically hand them to the student.
The employe simply visits the "REDEEM PASSPORTS" page on this site and follows the easy enstuctions to register and begin their course.
e

TIPS Passports

offer you:
Cost is $40.00 each. Same as individual purchase on orders under 100.
An easy way to order several registrations using one payment
The ability to hand-out pre-paid registrations to new employees as they are hired
A way to pay for your employees without having to provide them with your credit card
The ability to send certification cards to a centralized location
Purchase the Passports Online and Securely
We do accept company checks by mail
Fast delivery - Passports are produced and placed into your account when you pay. Simply login and access them.
eTips Passports are valid for 12 months from date of purchase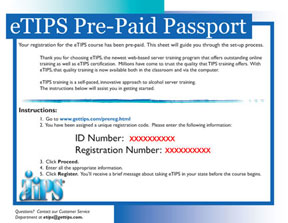 You may purchase your eTIPS Pre-Paid Passports online from this website using a major credit card.
Please click on the state tabs at the bottom of this page to ensure you receive the correct course for your state. Some states require additional material be added to the TIPS course.
Our TIPS courses have been reviewed and approved by the appropriate state agency where required.
Each TIPS Pre Paid Passport includes the correct web address to use and a unique username and password for the staff member to use when signing up. This unique numbering system gives you a method of tracking your staff and prevents fraud.
purchase etips alcohol passports -
by state
---
Many states require state-specific content be added to the course to meet their Alcoholic Beverage server program. Please purchase your eTIPS Passports by clicking on the state your employees work in below. Once you have selected your state, please purchase your eTIPS Passports according to your establishment type.
Once you purchase the eTIPS Passports, our system will produce the Passports and they will placed in your account for immediate use!
Click on the State tabs below to purchase your eTIPS Passports & train your staff!