Illinois Basset Approved
Training Only $40
---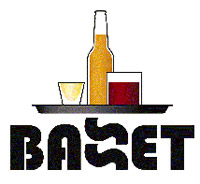 The Beverage Alcohol Sellers and Servers Education and Training (BASSET) program is the state of Illinois' seller/server training program. The program is an educational and training tool to sellers/servers of alcoholic beverages to serve responsibly and stay within the law.

The BASSET Certification Program serves as a preventive measure to discourage over consumption and keep drunk drivers off the roads.

BASSET training is not mandatory in the State of Illinois, however some municipalities in the State of Illinois do require BASSET training. You are advised to check your local ordinances to see if it is required that in order to be employed at a liquor establishment, you must attend BASSET training. Our Basset certification course has been approved additionally by the cities of Chicago and Schaumburg.

TIPS On-Premise, Off-Premise and TIPS Gaming online courses are all accepted statewide in Illinois. Sign up below or visit the course of your choice using the "TIPS Online Courses" menu to the upper left for detailed information.

Please Be Sure to Click on the Correct Course For Your Establishment!
TIPS Alcohol Training Online On and Off-Premise as wella as Gaming is accepted statewide for use in Illinois as well as the cities of Chicago and Schaumburg.
TIPS (T.I.P.S. - Training and Intervention Procedures for Servers of alcohol) Certification - If you've been told you must have your TIPS card or Basset Certification to be hired at a liquor serving establishment, this is the training and card required. TIPS is an Illinois Liquor Control Commission approved Basset program.

See the official Illinois list of approved Basset providers by clicking on the image to the right
Illinois
Alcohol Laws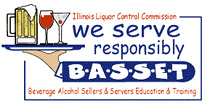 This information has been provided to us by the regulating agency and is believed to be correct. However, laws and regulations may change at any time, and the information provided should not be relied upon in place of official documents.
For more information or clarification, consult the regulatory body for this jurisdiction directly by clicking on their logo to the left.
Last update: 11/26/2012
Age to Consume
21
Age to Pour
Set by local ordinance. If no ordinance exists the minimum age is 18.
Age to Sell
Set by local ordinance. If no ordinance exists the minimum age is 18.
Age to Serve
Set by local ordinance. If no ordinance exists the minimum age is 18. (21 in Jacksonville)
DUI/DWI Limit
.08
DUI/DWI Under Age Limit
.08
Maximum Alcohol per Drink
Not Regulated
Number of Drinks at One Time
1
Dram Shop Liability Laws
Yes - An adult that provides a minor with alcohol that results in injury can be charged with a Class 4 felony.
Social Host Liability Laws
Effective January 1, 2013, it will be unlawful in Illinois for a parent or guardian to knowingly authorize or permit the consumption of alcohol in their private residence to persons under the age of 21. Any person found to have violated this law will be fond guilty of a Class A misdemeanor and will be fined no less than $500.
This law also applies to home alcohol deliveries and hotel/motel stays.
Server Training Required by State
Yes. TIPS is approved.
Server Training Notes
Any city, town, or village may enact ordinances with requirements that mandate server training programs, ranging from who is required to participate to who may provide the training. The Illinois Liquor Control Act states that if BASSET training is mandated it must be done by an Illinois BASSET licensee.
ID Confiscation Allowed
Yes, but not mandatory. State laws do not specifically require retailers to confiscate IDs.
Recommended age for carding
No recommendation.
Acceptable Forms of ID -
Illinois
A valid, current driver's license with photo issued by the state of Illinois or any other state.
A valid photo identification card issued by the state of Illinois or any other state.
A valid U.S. Armed Forces identification with photo.
A valid U.S. Passport or Passport Card or travel visa/passport issued by a foreign country containing the holder's photograph.