Texas Food Safety Manager
Online
---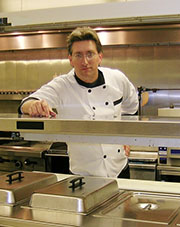 Texas Rule Rule §228.33 requires a minimum of one manager who holds aCertified Texas Food Safety Manager certification (Certified Food Protection Manager) certificate. The certificate must be posted in full view of customers.
If you need your Texas Food Protection Manager Certification (also called Food Safety Manager) we offer an 8 hour online course and a TDSH approved (license #00003118) online exam. What makes our program great is that the online exam is approved to be taken without a proctor! No Web Cam needed. The exam takes about 90 minutes to complete. The Certification is valid for 5 years in the state of Texas.
You may purchase the package which indludes both the course and the exam or you may just purchase and take the exam only. However, if you fail the online Texas food safety manager exam you will one additional attempt to pass the exam at no charge. If you fail it a second time you will have to repurchase the exam.
This 100% online Food Manager Principles course is 8 hours in length and covers food safety issues, regulations, and techniques to maintain a food-safe environment.
This 8 hour online course will help you to better understand how handling food correctly is not only the law, but it improves safety and reduces risks.
Our Texas Food Safety Manager Course is now mobile-friendly allowing the student to complete the course wherever there is internet access.
This course, exam and 5-year certification is specifc to the State of Texas and not valid in other states.

Learn 2 Serve is a TDSHS approved
Certified Food Manager Exam Provider
You may print your food safety manager certification immediately upon successful completion of the online proctored exam! You should carry this certification with you anytime you are working.
Easy Steps Below to Earn Your
Texas Food Safety Manager
Purchase the course/exam package or just the exam only by clicking on the blue "BUY NOW " button above, enter your information and pay for the package or exam only..
Complete the 360Training Food Safety Manager course online at your own pace.You have one year to complete the course.
A 71% score or higher is required to pass the final test.
Pass the online exam. It is approximately 1.5 hours in length online.
If you fail the exam you have one additional attempt to pass at no charge.
You may print your food safety ertification as proof to provide your employer.
Your Texas Food Safety Manager certificationis valid for 5 years in the state of Texas.
Check with your State and Local agencies to see if you need to register with them or pay any additional fees.
The city of Houston requires you to submit additional paperwor to them in order to be valid in Houston.

Online Texas Food Safety Exam General Info

Learn2Serve's online comprehensive exam is approved by the Texas Department of State Health Services and is accepted statewide. The exam offers the official Texas Food Protection Manager Certification required in the State of Texas.

You may choose to only take the online food manager exam (known as "challenging" the exam) or take the optional 8-hour food prep course that will prepare you for the exam.

Once you begin the test you can not log-out and log back in. You must complete the food manager exam within the 90 minutes allowed by the Texas Department of Health. You may not log-out or leave the computer during the examination. You must remain logged in until the test is completed and your results are calculated.

Therefore we recommend taking the food manager prep course if this is your first time to take this examination. The online food certification exam is available and valid for the State of Texas only. It will help you to better understand how handling food correctly is not only the law, but it improves safety and lowers cost as well.

Once you successfully complete the Texas Food Safety Manager Exam, you may print out your certificate from our website. At least one certificate must be displayed in each extablishment within customer view. Some Texas cities may require you to register with the local health department and may charge a fee to you. Ask your employer or contact your local health department if needed.

Certified Food Protection Manager

Learning Objectives

Our CFP Food Safety Manager course content was produced by industry professionals with many years of food experience and meets ANSI-CFP standards for food managers in licensed establishments.

Understand Food Safety, its importance, and those who enforce it
Recognize food-borne illness and its cause
Identify biological, physical, and chemical contamination
Understand preservation and temperature control
Recognize the importance of proper personal hygiene in the workplace
Implement appropriate procedures to receive and store foods
Understand cleaning, sanitization, pest control, and facility design

Get Your Food Safety Manager Certification Online in 10 Hours!
100% Online Mobile Friendly Courses