Texas Food Handler Certification
Online
---
Introducing the most simple, cost-effective and hassle free way to obtain your Texas Food Handler Card. Earn your Texas food handler card online anytime.
This 100% online Food Handler course is 2 hours in length and covers food safety issues, regulations, and techniques to maintain a food-safe environment.
This Texas online course will help you to better understand how handling food correctly is not only the law, but it improves safety and reduces risks.
Our Texas Food Handler Course is now mobile-friendly allowing the student to complete the course wherever there is internet access.
Our Texas Food Handler online course is produced by Learn2Serve and the course is TDSHS approved. The Learn2Serve Food Handler Card is accepted throughout the State of Texas as well as most states.

360Training is a TDSHS approved Provider
You may print your food handler certification immediately upon successful completion of this course! You should carry this card with you anytime you are working.
Easy Steps Below to Earn Your
Food Handler Card
Enroll in our class by clicking on the blue "BUY NOW " button above, enter your information and pay for the course.
Complete the 360Training Food Handler course online at your own pace.
A 72% score or higher is required to pass the final test.
Pass the certification exam. You have one year to complete the course.
If you fail the final exam you have one additional attempt to pass at no charge.
You may print your food handler certification as proof to provide your employer
Your Texas Food Handler Card is valid for 3 years.
You MUST retake the course and get re-certified every 3 years.
Who Should Have
Food Handler Certification?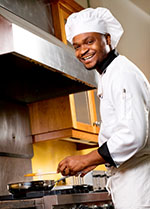 Anyone who serves or handles food in a Texas licensed establishment should take this training and receive their food handler certification. Food handler certification is required by many bars, restaurants and insurance companies.
All Cooks
Food Prep Staff
Bartenders if food is served in the bar area
Food Servers
Nursing Home Food Staff
School Food Staff
Day Care Food Staff
Any management staff not required to hold a Food Safety Manager Certification
Texas Food Handler Course
Content
Our food handler course content was produced by industry professionals with many years of food experience and meets ANSI-ASTM standards for individuals handling food in licensed establishments.
Introduction
Biohazards, Foodborne Disease, and Food Spoilage
Bartenders if food is served in the bar area
Contaminants
Food and Temperature Control
Employee Health, Hygiene, and Training
Purchasing, Receiving, and Storing Food
Cleaning and Sanitizing
Pest Control

Get Your Food Handler Card in 2 Hours!
100% Online Mobile Friendly Courses