TIPS Alcohol Delivery
Online Course
---
The Off Premise Delivery program is an online program addressing the sale or delivery of alcohol at grocery stores, convenience stores, liquor and package stores, specialty retail stores, and bars or restaurants that offer delivery or takeout services. Sellers and delivery personnel learn strategies for preventing illegal alcohol sales or delivery to underage and/or intoxicated customers.
The guidelines for purchasing alcohol have been modified considerably in almost every state. Direct alcohol delivery, curbside pickup, mixed drinks to-go for restaurants and off premise establishments are more commonplace. 30 states have allowed delivery during these trying times and many are making this permanent.
If any of the previous describe your business than this course is for your servers, delivery personnel and managers. Off Premise delivery eTIPS certification is valid for 3 years.
The Delivery To Go course is valid in all non-regulated states. If you are unsure of which course you need please visit the State Pages on the Side or Top Menu for Specific State Approvals for Courses.
Bars, restaurants and off-premise stores sometimes partner with delivery companies that allow customers to order alcohol through websites and mobile applications, and on-premise establishments may now include alcohol with food deliveries. Delivery companies and people providing alcohol for takeout need to be aware of the responsibilities associated with alcohol delivery.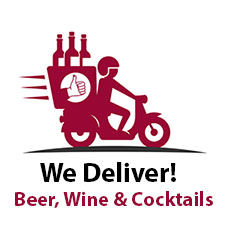 Establishments must
remember that:
It is illegal to deliver alcohol to visibly intoxicated people
It is illegal to deliver alcohol to underage people
It is illegal to deliver alcohol to people who are receiving alcohol for underage people
If a delivery person makes an illegal sale they may be held liable
The delivery person has the right to cancel the transaction if they feel it's illegal
eTIPS for Off Premise delivery can also help an establishment protect itself from possible litigation and often results in reduced liability insurance premiums.
Your TIPS Delivery Enrollment
Fee Includes:
Access to TIPS online alcohol beverage server certification course and exam for delivery establishments for 30 days..
Log in and log out as needed. Take the course in one sitting or a little at a time from any computer.
Unlimited toll free phone support 8:00am am to 5:00pm Mon - Fri CST
Printable, TIPS certification card - immediately upon graduating.
Permanent TIPS certification by US mail in 7 to 14 days.
eTIPS certification is valid for 3 years.
Why use TIPS Delivery Online
Alcohol Certification?
Recognized - by major insurance companies and top 100 restaurant chains
Trusted - over 5 million certifications in the last 38 years
Trainers in over 50 countties
Interactive - you learn online in your own home, at your own pace
Live Telephone Support - help is available if you need it
TIPS is the most recognized alcohol certification program in the US

Training for Intervention ProcedureS
Over 5 million responsible alcohol certifications!